sustainability
we all know the fashion industry is in crisis. as the second most polluting industry in the world, our clothing habits are causing serious harm to the planet and our people.
we need to innovate the way we dress in order to put a stop to the cycle of overconsumption and throw-away fashion. style rotate offers you the experience of wearing a new look, without the devastating impact on the planet.
our #SRcommunity is all about lengthening the lifespan of a garment by replacing mindless buying with rotating incredible outfits. 
rent, borrow, share looks. join the movement, ladies.       
xSR
some of the ways style rotate is taking our green operations seriously:
greenpop + style rotate
as of feb 2022 we have proudly partnered with g
reenpop
, a Cape Town based NGO, to contribute towards conserving and restoring ecosystems across sub-saharan africa. greenpop's work includes planting trees and vegetation in urban greening and reforestation projects and, to date, they have planted 139,000 trees.
we will be planting one tree for every ten rental orders received- and will aim to increase this pledge as our small company grows
our packaging
our garment boxes are recyclable and re-usable- we like to use them for up to 7 rentals so please handle them with care and return them to us. your rental will be sent in a biodegradable mailer bag from
nuun concept
. we have proudly partnered with hot ink printers, who adopt carbon neutral printing practices. our dresses are delivered in re-useable garment bags that we use again and again, mend and when they are beyond repair they will be recycled. 
responsible dry cleaning
we make use of wet cleaning practices – far more kind to the environment than dry cleaning. depending on the cleaning requirements, we use eco-friendly detergents and outdoor dry most of our garments.
our buying principle
our buying team focuses on sourcing pieces that will last multiple rentals. where possible, we prioritise brands that focus on sustainable manufacturing practices (like reformation, happy x nature – to name a few). we also partner with local designers and small businesses in an effort to move away from large scale fast fashion production.
repurpose
at the end of a garment's rental cycle we believe it can live on. we plan to extend the life cycle of our pieces through our resale site, which is launching soon. any items that are unable to be sold on, we will recycle
we are all in this together, right? if you have any suggestions on ways we could operate in a more responsible way – please don't hesitate to get in touch, we'd love to hear from you.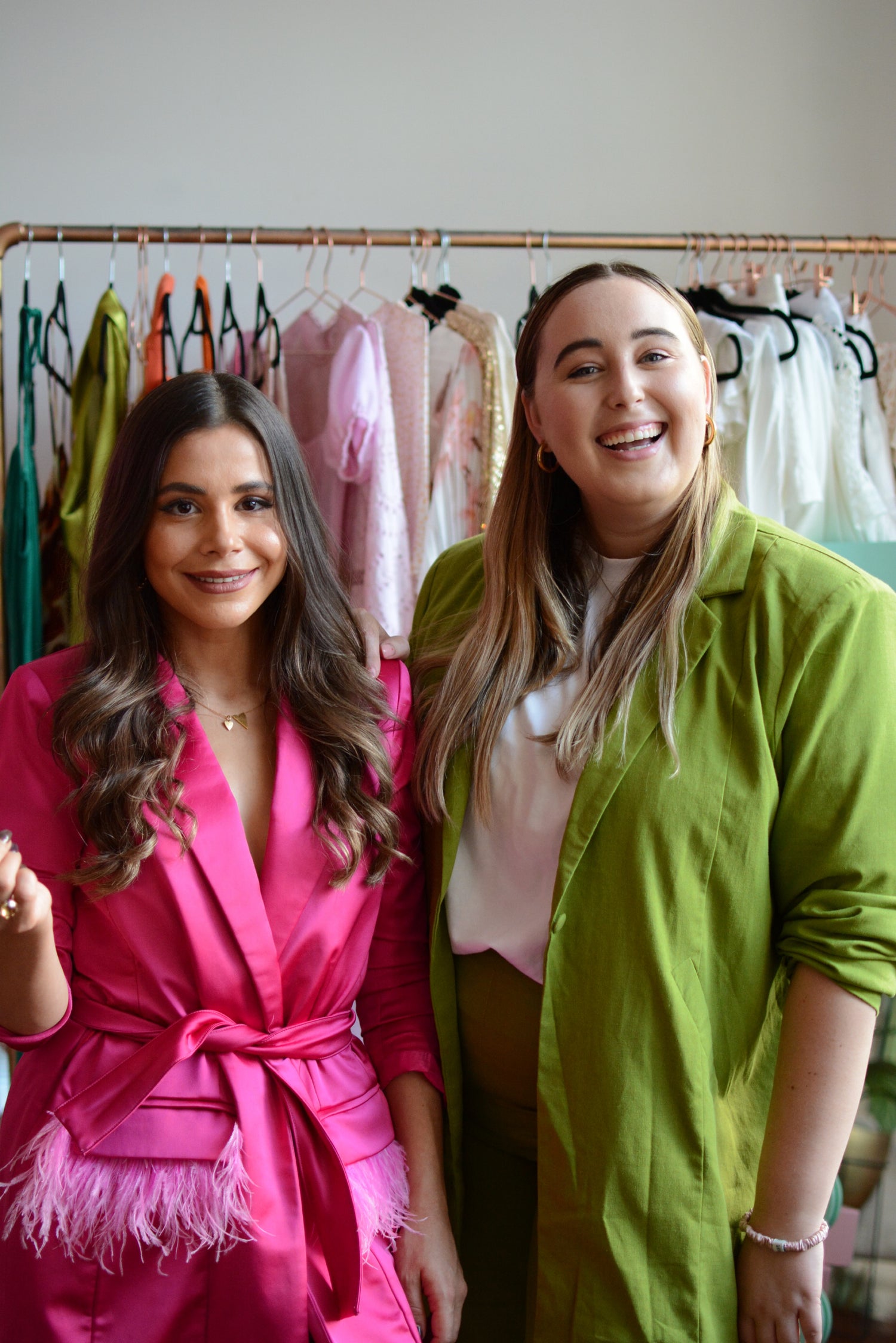 Faces to the names
Since launching SR in 2019, as founders we have been inspired by our amazing rotators and their willingness to switch up their fashion habits to help the planet.
join the rental revolution